Mongolo-Tibetica Pragensia '12 Linguistics, Ethnolinguistics, Religion and Culture Volume 5, No. 1 (2012)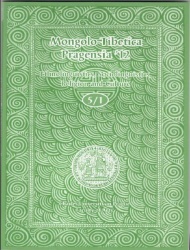 Editors-in-chief:
J. Vacek and A. Oberfalzerová
Editorial Board:
Daniel Berounský (Charles University in Prague, Czech Republic)
Agata Bareja-Starzyńska ( University of Warsaw, Poland)
Katia Buffetrille ( École pratique des Hautes-Études, Paris, France)
J. Lubsandorji ( Charles University in Prague, Czech Republic)
Marie-Dominique Even (Centre National des Recherches Scientifiques, Paris, France)
Marek Mejor ( University of Warsaw, Poland)
Tsevel Shagdarsurung ( National University of Mongolia, Ulaanbaatar, Mongolia)
Domiin Tömörtogoo ( National University of Mongolia, Ulaanbaatar, Mongolia)
English correction: Dr. Mark Corner, formerly lecturer at Charles University, presently HUB University, Brussels
Institute of South and Central Asian Studies, Seminar of Mongolian Studies
Faculty of Philosophy, Charles University in Prague
Celetná 20, 116 42 Praha 1, Czech Republic
http://mongolistika.ff.cuni.cz/
Published by Triton
First edition, Praha (Prague) 2008
ISSN 1803-5647
Registration number of MK ČR E 18436
For acquisition please contact
Contents
J. Lubsandorji: Some questions concerning the Chinese transcription of the SHM I.
In the course of transcribing the original manuscript of the SHM, which was written in Uighur-Mongolian script without any diacritics, many letters (graphemes) were read wrongly and in the Chinese sign transcription many new words appeared which had a completely different meaning. Besides that, the differentiating signs, which were invented in Chinese signs in order to mark the correct pronunciation of Mongolian sounds, were very often forgotten or were used incorrectly. And this became the source of incorrect translations, commentaries and interpretation of the SHM.
Alena Oberfalzerová: Unpleasantness and contentment as experienced by the Mongolian nomads, I. Fear
This paper continues the topic first considered in my paper in Mongolo-Tibetica '08 (Oberfalzerová 2008), which discussed the sources of contentment with Mongolian nomads, particularly in relation to the homeland, the place, which is permanently linked with every individual. In this paper I will deal with the basic cause of discontent or unpleasantness felt by nomads. This cause is nothing else but fear, something like a basal and original emotion, which has been supported and developed for many centuries as a part of Mongolian ethno-pedagogy, as an important communal means of protecting people against various dangers, which arise from wild, untransformed surrounding nature. This emotion is nowadays considered by psychologists to be the elementary protective mechanism of man, which awakens the ability to activate the body and save one's life, e.g. by running away or by circumspection when undertaking any action. In the Mongolian milieu this protective mechanism is far stronger than in sedentary cultures and it is supported by warnings on the part of parents and persons the child encounters, and this is done on the basis of a "verified" experience of the whole community participating in the process of eduction. My work is based on ten years of field work in the Mongolian rural milieu, on tape-recorded (or only listened to) testimonies of a great number of informants (about one hundred), and also on the rich oral tradition of the nomads, which was recorded in their folklore. I have also tried to systematize the objects provoking fear, so that we can better comprehend this so very complicated and boundless emotion of fear.
Veronika Kapišovská: Traditional Mongolian units and terms of lengths and distances I.
The paper provides a description of traditional Mongolian units of length in terms of their linguistic appearance, use and semantic context. Starting from the anthropometrical units I further try to summarize what was the reference used by nomadic society in order to make their length and distance measurements and how it is reflected in the language. Furthermore, I examine several poetic means by which units of length are demonstrated. Traditional units are no longer officially used in Mongolia, but they are preserved in historical sources, oral narratives and from time to time still in colloquial speech, and in a way they affected the manner in which some of the metrical units are used by non-professionals today.
Ha Mingzong: Particles in Mongghul, 2. Conjunctions, focus particles and adverbial particles
This is the second part of a study of particles in Mongghul. After presenting final, interrogative and negative particles in part one, this present part focuses on conjunctions, focus particles and adverbial particles. It also closely examines particles from Chinese and Tibetan that have entered Mongghul, including their functions and meanings. Considering the dramatic changes in meaning based on the position changes and usage circumstances of the particles listed in this paper, I explain and give examples of their use.
Jaroslav Vacek: Dravidian and Altaic 'fear, timidity, worry' I.
This paper lists three lexical parallels with an abstract meaning, namely 'fear, timidity, shyness' etc. to be found in Dravidian and Altaic:
Ta. c?r – Mo. sür – MT. SURD?K – Yak. sür
Ta. k??ai / k?cu – Mo. xor?ulza- / ?asal- – MT. KARA- / ?ASL?- – OT. kork-
besides
Ta. kili – Mo. kirü- / gelme- / girbi- – MT. ??LE / KIRI- II / GIRBE- / KISAN- – Yak. kiri
Ko. vekar- – Mo. begdere- – MT. MAKA- / NE?DE-
In the context of the relatively numerous lexical parallels with concrete meanings established in my previous papers, it is important to realise that there is a difference between these two types of parallels. Sharing abstract lexemes can be an essential 'qualitative' feature of the proposed language contact within an early linguistic area.
Zuzana Vokurková: The various lexical and grammatical functions of the verb dgos in spoken Tibetan
The aim of the present paper is to show the different uses and meanings of the verb dgos ("need", "must", "want") in spoken Tibetan. This verb will be discussed from a syntactic and a semantic point of view. Furthermore, it will be compared to other verbs or verbal endings that have a similar meaning.
Review section
The Early Mongols: Language, Culture and History. Studies in honor of Igor de Rachewiltz on the occasion of his 80th birthday. Edited by Volker Rybatzki, Alessandra Pozzi, Peter W. Geier and John R. Krueger. Indiana University Uralic and Altaic Book Series, Volume 173 – The Denis Sinor Institute for Inner Asian Studies, Bloomington, Indiana 2009, XXXIII + 217 pp.; Hardback, price not specified; ISBN 978-0-933070-57-8 – Reviewed by Ľudmila Miškaňová
Just Published …
In the Heart of Mongolia. 100th Anniversary of W. Kotwicz's Expedition to Mongolia in 1912 Studies and Selected Source Materials. Edited by Jerzy Tulisow, Osamu Inoue, Agata Bareja-Starzyńska and Ewa Dziurzyńska. Polish Academy of Arts and Sciences, Cracow 2012, 413 pp.; Booklet with Indexes; Map; DVD; ISBN 978-83-7676-133-6
Fragment from the Foreword by Dr. Rita Majkowska (Director of the Archive of Science of the Polish Academy of Sciences and Polish Academy of Arts and Sciences in Cracow, Poland)